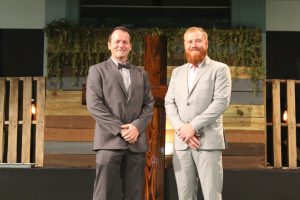 Gerard Morgan
Program Supervisor
Gerard Morgan is a native of Crowley. He attended Crowley High School as a young man. In the past he has owned a trucking business, and he is now on staff with Northside Assembly of God as the care and facilities pastor, where he has faithfully served for 9-years. Gerard's life was changed by a faith-based program much like The Way Training Center. Gerard is well connected with the leadership in the community and has a passion to help those who are bound by life-controlling disorders.
Joshua Scanlan
Executive Director
Joshua was born in Crowley, LA. He was raised down the road in Kaplan, LA, where he attended Kaplan High School. He was educated at Louisiana Technical College in Lafayette then began a successful career as an electrician. He was unfulfilled in his career pursuit of 5 years, so decided to pursue eduction further.
He received an Associate Degree in Theological Studies, as well as a Bachelor's Degree in Cross Cultural Church Planting, from Evangel University. Upon graduation from college he went to work as the Intake Director/Academic Dean at Long Island Teen Challenge, a faith-based residential drug and alcohol program in Long Island NY. This is where he received the practical experience and training to see men restored from the effects of addiction. Along with his duties as the Executive Director of The Way Training Center, Joshua serves on staff as the Outreach pastor at Northside Assembly of God in Crowley, LA. He has a huge heart to serve the community and a passion to see people restored to a place of wholeness so they can fulfill their destiny!